5 Helpful & Fun Tips For Camping After Dark
There's still plenty of camping to enjoy at Jellystone Park™ West Georgia, from the time the sunsets to when the last ember fades, and your head hits the pillow. Even though our park's Quiet Hours fall within this period, you and the family can still quietly enjoy every minute of camping after dark with these helpful and fun tips.
Tips For Camping After Dark
#1 Keep a Headlight Handy
Sometimes nature calls after dark. If you, your kiddos, or even Fido need a bathroom break, bring along a flashlight to safely navigate your way around the park. Opt for hands-free headlamps, especially when escorting the kids or walking your pup.
#2 Enjoy a Colorful Campfire
Add a fire color-changing packet like Mystical Fire to your campfire and watch fun colors dance in the flames. Just make sure to do this after dinner and s'mores since it's not recommended to cook over the fire once the color-changing packets are added.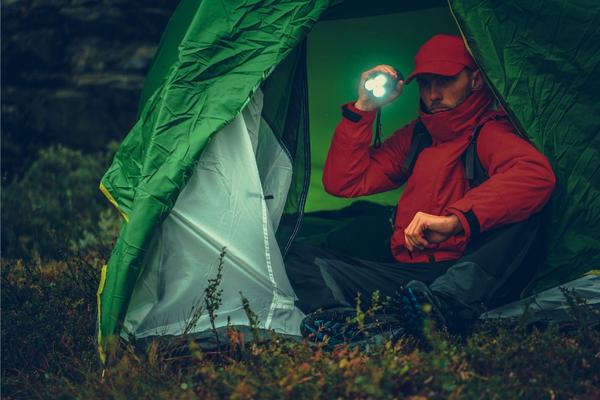 #3 Completely Extinguish Your Fire Before Turning In
Speaking of campfires, while one of the best parts of camping after dark is sitting around the campfire, it's important that fire safety is practiced. This means never leaving a fire unattended, keeping fires small and manageable, and putting the fire out before leaving or going to sleep, making sure to drown all the embers.
#4 Stargaze without a Telescope
Stargazing doesn't have to involve lugging around bulky, heavy equipment. For the best stargazing experience, consider these tips from the pros:
Invest in a red flashlight to preserve night vision.
Newbies should start with binoculars instead of buying an expensive telescope.
Learn about the skies with a star chart or transform your smartphone into a portable planetarium with far-out apps like SkySafari, NASA, Skyview Lite, and Star Walk 2.
#5 Get Comfy for a Good Night's Sleep
Whether tent camping, RVing, or glamping in a cabin, bringing the right bedding is key to a good night's sleep. Opting for an air mattress, sleeping pad, or camping cot along with your sleeping bag provides a softer surface and adds insulation to keep you warmer at night in a tent. Likewise, the kiddos may feel more comfortable in their cabin beds snuggled with their favorite comforter and pillow.
Get Some Zs Before More F-U-N
We have tons of fun amenities and activities for everyone at Jellystone Park™ West Georgia. From splashing in swimming pools to leaping on the Jump Pad and playing sports to participating in exciting weekend events, you and your kiddos will have so much to do from sunup to sundown and even a bit more camping after dark!
Have Camping Adventures Morning, Noon, and Night!