10 Campfire Games the Whole Family Can Enjoy
A certain magic fills the air when a day full of summer camping adventures at Jellystone Park™ West Georgia comes to a close. As the sun sets, the park's many amenities and attractions – wagon rides with Yogi Bear™ to hunting for treasures at our gem mining station – start to quiet down.
But the day's fun doesn't have to end there. Whether you've spent your day lounging by the pool or zipping around in a golf cart rental to get to all the activities, the warmth of a campfire beckons, inviting you to gather around for a night of laughter and shared stories.
Each of our accommodations, from our furnished cabins to our spacious campsites, comes with a fire ring, making it the perfect spot for an evening of campfire games. So as the stars begin to twinkle in the night sky, it's time to turn up the heat with these fun activities.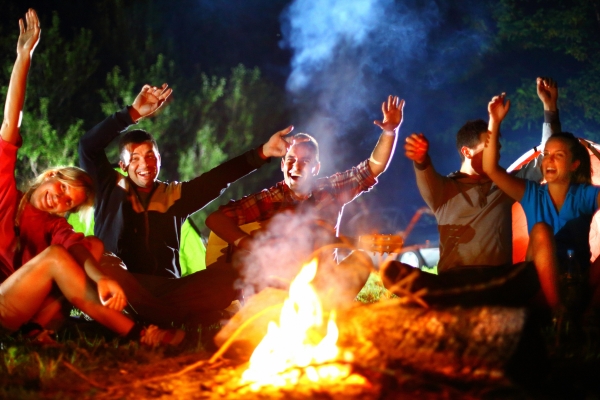 10 Campfire Games
1. S'mores Creation Contest
Can you make the tallest s'more? The messiest? The s'more with the most interesting shape? Let the marshmallow roasting and the chocolate melting begin!
2. Storytelling Chain
One person starts a story, and each person around the fire adds a sentence or two. This game can result in some really creative and hilarious stories!
3. Charades
Have everyone write down a few ideas, throw them in a hat, and then take turns acting them out.
4. Two Truths and a Lie
Each person tells two truths and one lie about themselves, while the others guess which one is the lie.
5. 20 Questions
One person thinks of something, and the others have 20 questions they can ask to guess what it is.
6. Camping Alphabet
In this fun challenge, players take turns listing camping-related items or activities that correspond with each sequential letter of the alphabet.
7. Name That Tune
Hum a song and have others guess it.
8. Campfire Pictionary
Use a stick to draw pictures in the dirt or sand while others guess what it is.
9. Telephone
A classic among the campfire games, a message gets whispered from person to person, often with hilarious results.
10. Would You Rather
Ask difficult "Would You Rather" questions and see how your family and friends respond.
So the next time your day of fun at Jellystone Park™ West Georgia turns into a cool, starlit evening, gather around for some fun with campfire games. They're sure to bring smiles, laughter, and create unforgettable memories under the Georgia sky.
The Campfire Is Waiting!