Is Your RV Road-Ready? Use Our RV Checklist To Find Out!
Before you hit the road and live your best RV life, it's essential to make sure that your vehicle is ready to roll. After all, you don't want to hit any speed bumps along the way. That's why we've compiled this helpful RV checklist to ensure that you're road-ready and revved up to make the most of your RV adventure!
RV Checklist: Things to Inspect Before Hitting the Road
1. Pump Up Those Tires
It'd be a shame if you let your tires flat-out ruin your trip. Inspect their air pressure and tread to make sure they're in good condition. If they're not, it's time to hit the road to the tire store.
2. Keep Worn-out Brakes from Putting the Brakes on Your Trip!
Make sure they're working correctly and stop any potential accidents in their tracks, so you can hit the road with confidence.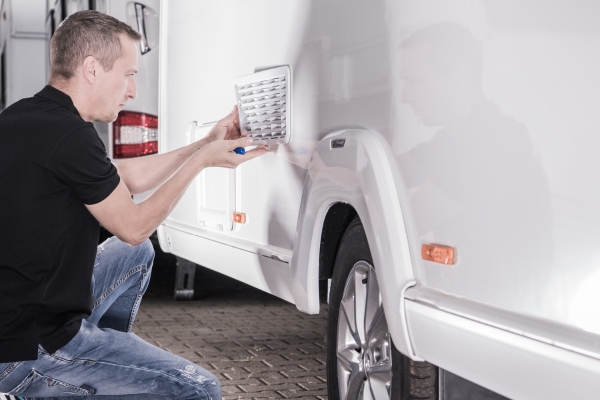 3. Light Up Your Life and the Road
Double-check that all your exterior lights are shining bright and working correctly so you're visible to other drivers on the road.
4. Keep Your Fluids in Check
Don't let your trip run dry! Assess your RV's oil, coolant, and other fluids to make sure they're at the recommended levels. Dirty fluids or low levels can lead to engine problems and breakdowns.
5. Charge Ahead with Good RV Batteries
Don't let a dead battery leave you stranded! Your RV's batterie ought to be fully charged and in good condition. If it's not, it's time to charge ahead on your RV checklist and get a new one.
6. Propane: Don't Be Left in the Dark Ages
Ensure your RV's propane system and tanks are filled and working properly, so you can cook up a storm and stay warm on chilly nights. Look out for any leaks or faulty hoses.
7. High and Dry? Hydrate your RV
Inspect your RV's water system, including the fresh water tank, water pump, and hot water heater, to ensure everything's flowing smoothly.
8. Safety First!
Check that your RV's smoke detector, carbon monoxide detector, and fire extinguisher are all working correctly.
Rev Up Your RV Adventure to Jellystone Park™ West Georgia
And there you have it, folks – our RV checklist to ensure your vehicle is ready to roll and you're geared up for a smooth ride! With a few simple checks, you can avoid roadblocks and ensure a smooth ride to your destination.
And if you're looking for the ultimate RV adventure, take a detour to Jellystone Park™ West Georgia, where you'll find full hookup pull-thru and back-in RV sites, plus cabins and tent sites for those who prefer a different kind of camping experience. And with all the amenities and activities on offer – from the swimming pool and splash pool to mini-golf and sports courts and more – the whole family is sure to have a blast. So what are you waiting for? Let's hit the road to RV adventure at Jellystone Park™ West Georgia!
Don't Wait, Gear Up for Camping Fun at Jellystone Park™ West Georgia!