Campfire Cooking Tips and Safety Measures
Spring is in full bloom, and so is camping season! At Jellystone Park™ West Georgia, we offer all sorts of ways to stay and play in the beautiful outdoors! No matter if you opt for a comfy cabin, roll into an RV site, or pitch a tent, campers have a fire ring at their site so they can enjoy outdoor meals and a cozy campfire with family and friends. After all, what is camping without a campfire! So make the most out of your campsite or cabin fire ring with these helpful campfire cooking tips and safety measures.
Campfire Cooking Tips
Tip #1:
Have fun cooking over the campfire with this nifty equipment everyone in the family will enjoy using!
Percolator for that perfect cup of coffee in the morning
Campfire popcorn popper which consists of a basket to throw in some kernels and a long safety handle
Roasting sticks for heating anything from hotdogs to marshmallows
Pie iron for delicious sandwiches and pies over the fire
And don't forget your cooking gloves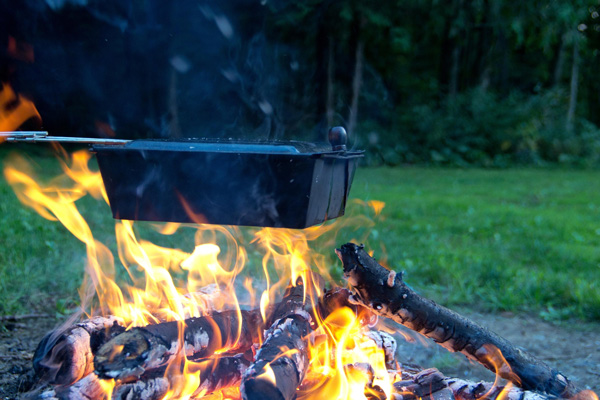 Tip #2:
Don't cook over an open flame. Instead, start your fire at least an hour before you plan to cook. This allows ample time for the fire to die down and the wood to turn into coals for even cooking.
Campfire Safety Measures
If not careful, campfires can get out of hand, so it's always a good idea to practice safety around fires with the entire family, even while using some of the above campfire cooking tips. Smokey the Bear offers a whole list of Campfire Rules, and Yogi Bear™ wholeheartedly agrees!
Some of these include:
After lighting, throw the match into the fire.
Never leave a campfire unattended; an adult should supervise the campfire at all times.
Keep a bucket of water and shovel nearby.
Never put anything but wood into the fire.
Do not pull sticks out of the fire.
Do not sit on the fire ring or rocks around the campfire. They will heat up quickly and stay hot for a long time.
(For the complete list of Smokey's rules, check out smokeybear.com)
Enjoy your outdoor camping adventures even more with these campfire cooking tips and safety measures! Whether you and the family prefer campfires early in the morning or late into the night, you can keep your fire going with firewood bundles sold at our camp store! We also have many other camping supplies, groceries, sweet treats, and fun Jellystone Park™ West Georgia momentos and apparel!
Delight in Camping Adventures During the Day and Campfires at Night!