Campfire Recipes for Winter: Warmth & Flavor at Jellystone Park™
Embrace the chilly evenings at Jellystone Park™ West Georgia with our collection of campfire recipes for winter. These easy, family-friendly meals add a touch of warmth to your outdoor gatherings, making every moment around the fire memorable.
6 Campfire Recipes for Winter
1. Peppermint Hot Chocolate: A Winter Classic
Ingredients: Milk, cocoa powder, sugar, peppermint extract, whipped cream, crushed peppermint candies
Method: Heat milk gently over the campfire, stirring in cocoa powder and sugar until well blended. Add a few drops of peppermint extract for that minty kick. Serve in mugs, topped with whipped cream and a sprinkle of crushed peppermint for a festive touch. It's like a hug in a mug!
2. Classic S'mores with a Peanut Butter Twist
Ingredients: Graham crackers, marshmallows, chocolate bars, peanut butter
Method: Spread peanut butter on graham crackers for a nutty twist. Roast marshmallows to golden perfection and sandwich them with chocolate between the crackers. The peanut butter adds a creamy, savory element that complements the sweet marshmallows and chocolate perfectly.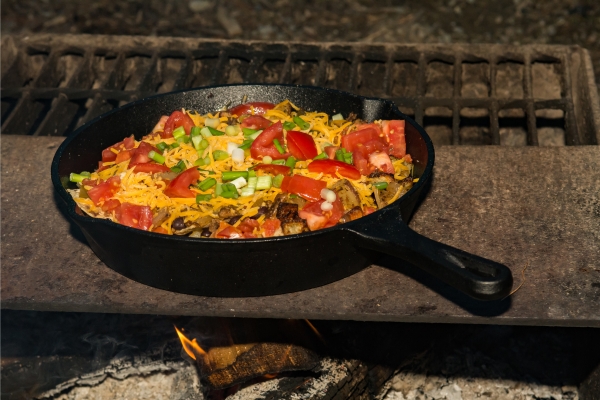 3. Foil Packet BBQ Chicken: Easy and Flavorful
Ingredients: Chicken breasts, BBQ sauce, bell peppers, onions, salt, pepper
Method: Wrap chicken breasts with your favorite BBQ sauce, sliced bell peppers, and onions in foil packets. Season to taste. Cook the packets over the campfire, turning occasionally, until the chicken is juicy and tender. This dish is not only full of flavor but also ranks as the most mess-free among our campfire recipes for winter.
4. Hearty Campfire Chili: A Crowd-Pleaser
Ingredients: Your choice of ground meat, canned beans, canned tomatoes, chili seasoning
Method: Cook ground meat over the fire, then stir in beans, tomatoes, and chili seasoning. Let the mixture simmer until flavors meld together. Serve hot, topped with shredded cheese or sour cream. It's the perfect dish to warm you up on a cold evening.
5. Easy Campfire Nachos: Share the Fun
Ingredients: Tortilla chips, shredded cheese, black beans, salsa, jalapeños
Method: In a cast-iron skillet, create layers of chips, cheese, beans, and jalapeños. Cover with foil and cook over the fire until the cheese is deliciously melted. Serve with salsa for a communal dish that's always a hit.
6. Toasted Campfire Cinnamon Rolls: Sweet Ending
Ingredients: Pre-made cinnamon rolls, skewers
Method: Skewer cinnamon rolls and toast them over the campfire, rotating to cook evenly. These sweet, warm treats are perfect for a chilly evening and a favorite among kids.
With these campfire recipes for winter, your stay at Jellystone Park™ West Georgia is sure to be filled with delicious moments and cozy memories. So gather your ingredients, circle around the fire at your campsite or cabin, and enjoy the best of winter camping with these heartwarming culinary delights.
Gear up for Adventures at Jellystone Park™ West Georgia