Pedal into Fun: Bicycle Safety Tips at Jellystone Park™
Exploring Jellystone Park™ West Georgia on two wheels is a delightful adventure! However, ensuring bicycle safety is crucial for a fun and memorable experience. Here are six friendly tips to keep you and your family safe as you pedal around the park.
6 Bicycle Safety Tips
#1 Daylight Delight
It's best to ride during daylight hours. The bright sun makes it easier for others to see you as you explore the park's beautiful landscape. Plus, witnessing the park in daylight is an experience in itself!
#2 Group Groove
Riding in groups is not only a shared joy but also a smart choice. It's easier to spot a group of cyclists, and you have extra pairs of eyes to look out for any potential hazards.
#3 Sound Surround
Keeping your ears free from headphones or earbuds allows you to stay alert to your surroundings. You can hear the chirping birds, rustling leaves, and any approaching vehicles or fellow cyclists.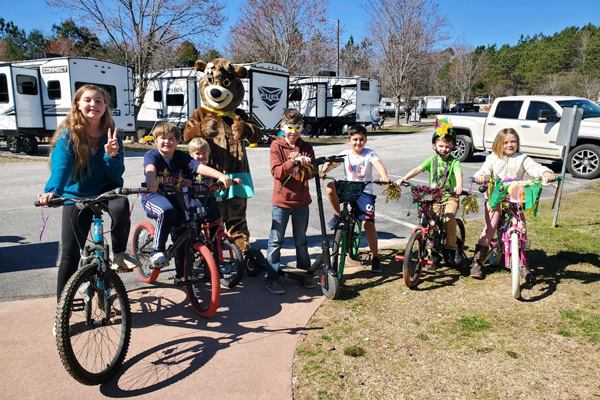 #4 Helmet Haven
Helmets are a cyclist's best friend! They protect your head, so be sure everyone has a snug-fitting helmet before setting off.
#5 Ride Responsibly
Stick to designated biking areas, obey all posted signs, and make sure your bicycle is in good working order. A quick check on the brakes and tires can go a long way in promoting a safe ride.
#6 Bright and Right
Wearing bright clothing during the day and reflective gear in low light conditions makes you visible to others as you cycle through the park's scenic routes, enhancing bicycle safety on your adventure.
Bicycle safety is simple and ensures a joyful time for everyone. Once you've explored to your heart's content on two wheels, why not switch up the pace? Jellystone Park™ West Georgia offers pedal cart and golf cart rentals for a unique, safe, and enjoyable way to see the sights. So, gear up, stay safe, and embrace the pedal-powered freedom awaiting you at Jellystone Park™ West Georgia!
Gear up for Adventures at Jellystone Park™ West Georgia