Questions To Ask Before Taking Your Dog Camping
Summer is here and so is vacation time with the family! One of the best parts about summer vacation is spending time in the great outdoors together, Fido included! If this is the first time you'll be taking your dog camping, it's worth considering whether your dog is ready to go on a camping trip.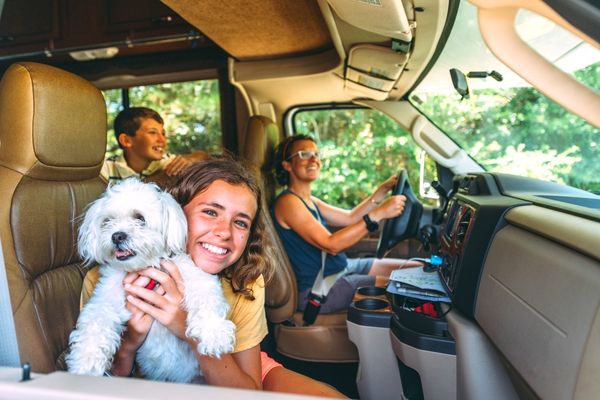 What To Consider Before Taking Your Dog Camping
Is my dog ready to go on a camping trip?
Does your dog yap uncontrollably?
Does your dog have a difficult time walking on a leash?
Is your dog aggressive towards other dogs or humans?
If you answered yes to any of the above, some addressing is warranted. Typically these behaviors are frowned upon at campgrounds, parks, and resorts. Whether your pup shows nuisance barking, has rarely (if ever) worn a leash, or does not get along with other dogs, consider signing up for a dog obedience class. However, sometimes a little exposure like regularly taking them for long walks and practicing leash commands is all that is needed.
Are dogs allowed at the campground?
While it would be nice if all campgrounds and parks welcomed pets, that is not always the case, so it's imperative to make sure your destination is pet-friendly. Read through the property's rules and regulations to see if there are any restrictions regarding taking your dog camping. And call to let them know you will be bringing your pup for any additional information on policies.
What kind of activities can I do with my dog while camping?
From hiking to romping around in the off-leash dog park andvisiting nearby Fido-approved places, there are all sorts of ways you and your pup can have fun during your camping trip. Find out what pet-friendly amenities are offered in and around the camp-resort. Then plan your adventure with your dog in mind. You don't want your pup sitting idle in your RV or cabin. (Plus most parks do not allow leaving your pet unattended in a cabin or campsite.) When dogs get bored, they get rambunctious and restless, typically resulting in items getting chewed up or destroyed somehow.
Is my dog up to date on vaccinations?
For the safety of your pooch and others, be sure they are up to date on their shots. Plan a vet visit before your camping trip and get the seal of approval from the doctor. Also, keep a copy of their records handy. (This is a good practice to follow whenever you bring Fido on vacation with the family.)
Have I packed all of my pup's essentials?
Make a list of puppy provisions and check each off as they are packed away. Items like a supply of their regular food, collar, leash, and waste bags are a given. Pack their comfy bed, favorite chew toys, and treats along with any supplements or medication they may need. Your dog's collar should have an ID tag with their name and a good contact number in case they wander off. You can also add a temporary tag with the campground name and your site number.
Jellystone Park™ West Georgia is Pet-Friendly
We understand that an outdoor adventure is not the same without taking your dog camping! At Jellystone Park™ West Georgia, we offer pet-friendly RV sites and cabins. Plus, your pup will enjoy meeting other pets in our off-leash dog park. Take your pup for a walk around the park (on a leash, of course) to get a lay of the land when you first arrive and check out all the fun amenities and activities!
Have A Dog-Gone Good Time On Your Family Camping Trip!